Call Parking is a feature by which a caller is put in a "parking lot" or "orbit" and can be picked up at another location by several different methods. Parking is normally activated by pressing a BLF key or a sequence of buttons. When activating Call Park, the call that is being parked will essentially be transferred to a Call Park Orbit, which is a set of open extension that hold on to a call until it has been picked up or has timed out and has been sent back to the original device.

There are two types of Call Park methods: Directed and Dynamic.

Directed or Static – This type of parking is the traditional method parking where a call is transferred to one of the Parking extension or "Call Park Queue". This transfer can be a manual transfer or setup with BLF keys on a Phone.




Dynamic – Dynamic parking allows a person to dial *** from their phone and the system will announce the park extension/orbit available. The parker doesn't need to know which park orbit is available as the system will automatically assign an available one



Creating a Call Park Queue
The first thing that is required for parking to function is to build Call Queues for each Parking Orbit.
First Click on Call Queues and then Add Call Queue.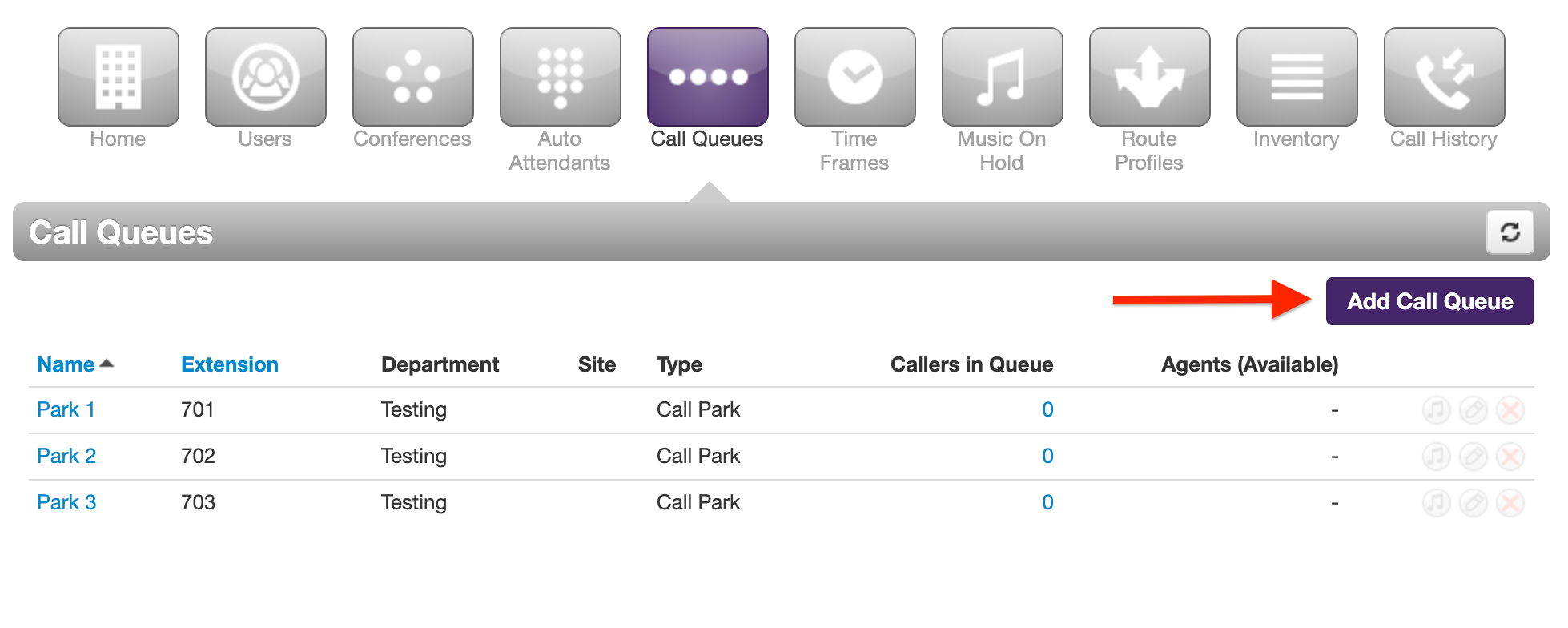 Then Fill out the Add a Call Queue details below.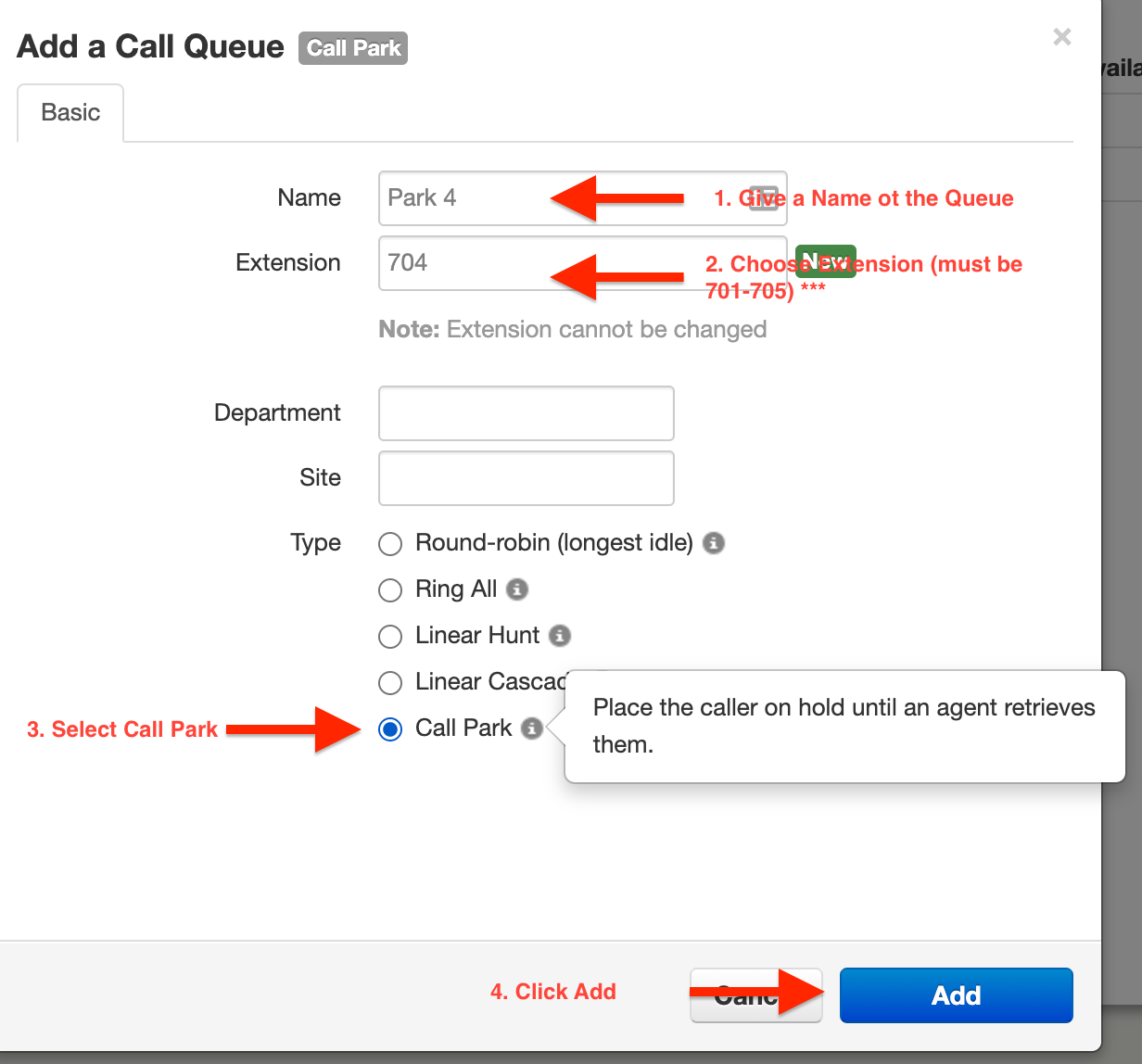 Please note that Park extensions must ONLY be between 701-705. If there is a requirement for different park extensions, there is a billable PS charge. Please contact your account representative.
Changing Ring Timeout for Park User



After a Queue(s) has been created, set the timeout to if the caller is left on hold for too long the call will ring back to the original device.
Uncheck "Hide System Users"




Click on your Park Users




Click on Answering Rules



Select the length of time in seconds that you want to keep the call in park before it is recalled.



Transferring calls to a Park Orbit



Dynamic



To dynamically park a call to any of the available Parking Orbits, dial *** from any phone. The system will announce the call park location. From any phone, you can dial that park orbit location and you will pick up the phone.

Directed



To transfer to directly to a specific Parking Orbit, simply press the transfer button on your phone and transfer it to either 701, 702, 703, 704, 705 and hangup. From any phone, you can dial that park orbit location and you will pick up the phone.

Parking on a Button (BLF Method)



For customers that require parking on a BLF key, this can be accomplished by using SNAP Builder in the Manager Portal. In the example below, we will be using a Yealink T5 series phone, but this method works on Polycom, Grandstream, Cisco and others.
First, find the phone that you want to add the Park buttons to and click on the MAC address to access SNAP Builder. Once there select a button and use the drop down as seen below and choose Call Park.

Then type the number of one of the queues you want to add. As you start typing the field will populate. You can add a custom label if you would like.


Different phone models display information differently, using either the DN, Label, name fields.


Once complete, It will look like this:


Once you are happy with the results, then click Save and Resync below. you will see the changes on the phone.

Using Park BLF buttons



When on a call, simply press any one of the Park buttons that are NOT illuminated and you call will automatically be parked there. All other phones with that same button on their phone will see it illuminated.
To retrieve the parked call, simply press the illuminated button from any phone that has been provisioned with that park key.