Installation of Go Interagtor Nava Application
Introduction

This guide will help install the Go Integrator Nava Application for WINDOWS only. the MacOS client will be released shortly.
Installation

The Go Integrator Nava software is supplied as an Internet download. It is a self-contained installer that contains the files needed to install a copy of Go Integrator Nava.


Access Code
After completing the software installation process and depending upon the software configuration, Go Integrator Nava may present the Access Code input window on first launch. A valid access code, supplied by your service provider, is required to proceed to user login. The Access Code is only required on first launch of the Go Integrator Nava client and may have been entered during installation, in which case this window will not appear and user Login will display.


The Access Code is NPRESS

Installation Complete

After Installation, The application will be loaded in the Start MenuWelcome and Login

Welcome and Login

At the User login window, enter a valid username and password, as supplied by your service provider and click the "Log in" button. This is the same username and password that you will log into
https://ucportal.pressone.net
with. If you use SSO with Google or Microsoft, you will need to use the true login to the platform (extension@domain)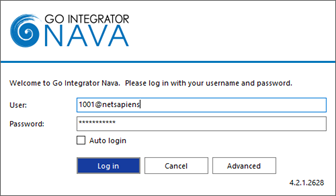 Advanced Options

Access Code Reset

To modify the Access Code, click "Reset" and enter the new Access Code.



Note: This should only be performed on the guidance of your service provider
Options

Select "Use proxy" and "Ignore invalid certificates" only if required and instructed to by your service provider:


First Login Wizard
At the first login after installation, a list of the available telephony devices for your user account will be displayed. Tick the box to enable the device to be available for use. At least one device must be selected and if multiple devices are enabled, the Preferred device can be chosen from the drop down list.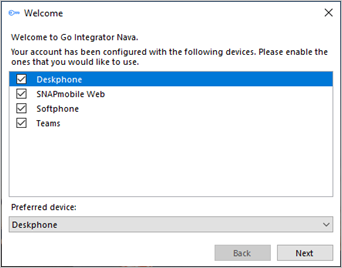 The selection can be amended after login through Configuration > Devices.

The "Primary/Deskphone" device must be selected for Contacts to be displayed or searched in the Presence window. The "Softphone" device must be selected for Presence to display Busy Lamp status regardless of whether the Softphone is used or available as a Preferred Device.

The "Softphone" device will also prompt for PC audio device configuration settings – choose the appropriate audio devices for microphone, speaker and ringer.


Not all features will are available to all license types


If "Teams" is selected, the Microsoft Teams user account will request login confirmation: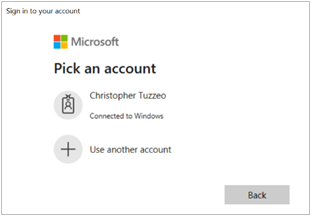 additional configuration is required within Microsoft Teams administration
License Key Activation

If a User is not already assigned with a Go Integrator Nava user license, an additional "Licensing" window is displayed. This allows new users to enter a License Key (previously referred to as Serial Number) to self-assign a License Pack, or to register for a free 30-day trial.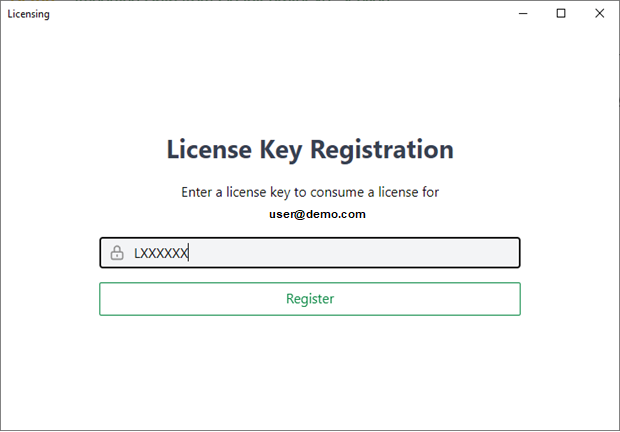 Additional Detailed Support

Click
here
to find the weather or not your CRM or ERP Software is already integrated with Nava. Chances are, it already is!
Related Articles

Setting up the Salesforce Go Integrator Plugin - (REST API Version)

Introduction This document will guide the Salesforce Administrator through creating the API Connections so that their end users may use the Go Integrator app to connect their phone service with Salesforce. These instructions will show both Lightning ...

Welcome to PressONE UC

Getting Started Here are a few pointers to help you get started with PressONE UC. Log into the portal Click on this link https://ucportal.pressone.net and log in with your credentials. Those credentials are formatted as extension@domain, e.g. ...

Parking

Concept Call Parking is a feature by which a caller is put in a "parking lot" or "orbit" and can be picked up at another location by several different methods. Parking is normally activated by pressing a BLF key or a sequence of buttons. When ...

Factory Resetting Common SIP Phones

Yealink T2, T3, T4, T5 (Except Android Phones), CP920 Press the "OK" button for 5 seconds. Depending on the specific configuration, the device may ask for the admin password. If you do not know it, please contact your account rep or ...